Brick & Timber Collective's Glenn Gilmore, left, and Jesse Feldman at one of the San Francisco office buildings that they own. They expect to buy more despite the city's record vacancy rates.
Article by Roland Li | San Francisco Cronicle
After the pandemic hit, a San Francisco real estate investor followed a number of Bay Area residents and went to Miami to buy property.
But as the city's economy is lifted by an artificial intelligence boom and office buildings are selling at steep price drops, Brick & Timber Collective is shifting back and aims to spend half a billion dollars locally.
The firm now hopes to buy "struggling" commercial buildings and renovate them, with a belief that tech growth is generating a new wave of demand, especially for well-located and attractive office space.
"We don't make these moves based on hope," said Jesse Feldman, a partner at the firm. "This is the beginning of a new cycle." He declined to identify the firm's financial partners.
"There are still a lot of strong, innovative companies in San Francisco that still want offices … it's still one of the world's great cities," Feldman said, adding that it is "simultaneously true that San Francisco is not in a good place and needs to make a number of improvements."
Those challenges include public safety and homelessness. Feldman also said soaring construction costs make it extremely difficult to convert offices into housing or, as Mayor London Breed has promoted, creating more downtown biotech lab space, especially since biotech growth has faltered in the past year.
As for AI, "it is not a panacea" that will solve all the city's woes, Feldman believes, but tech of some sort is still embedded in virtually every growing company.
(Brick & Timber Collective is unrelated to the San Francisco apartment rental agency Brick + Timber, an affiliate of Ballast Investments.)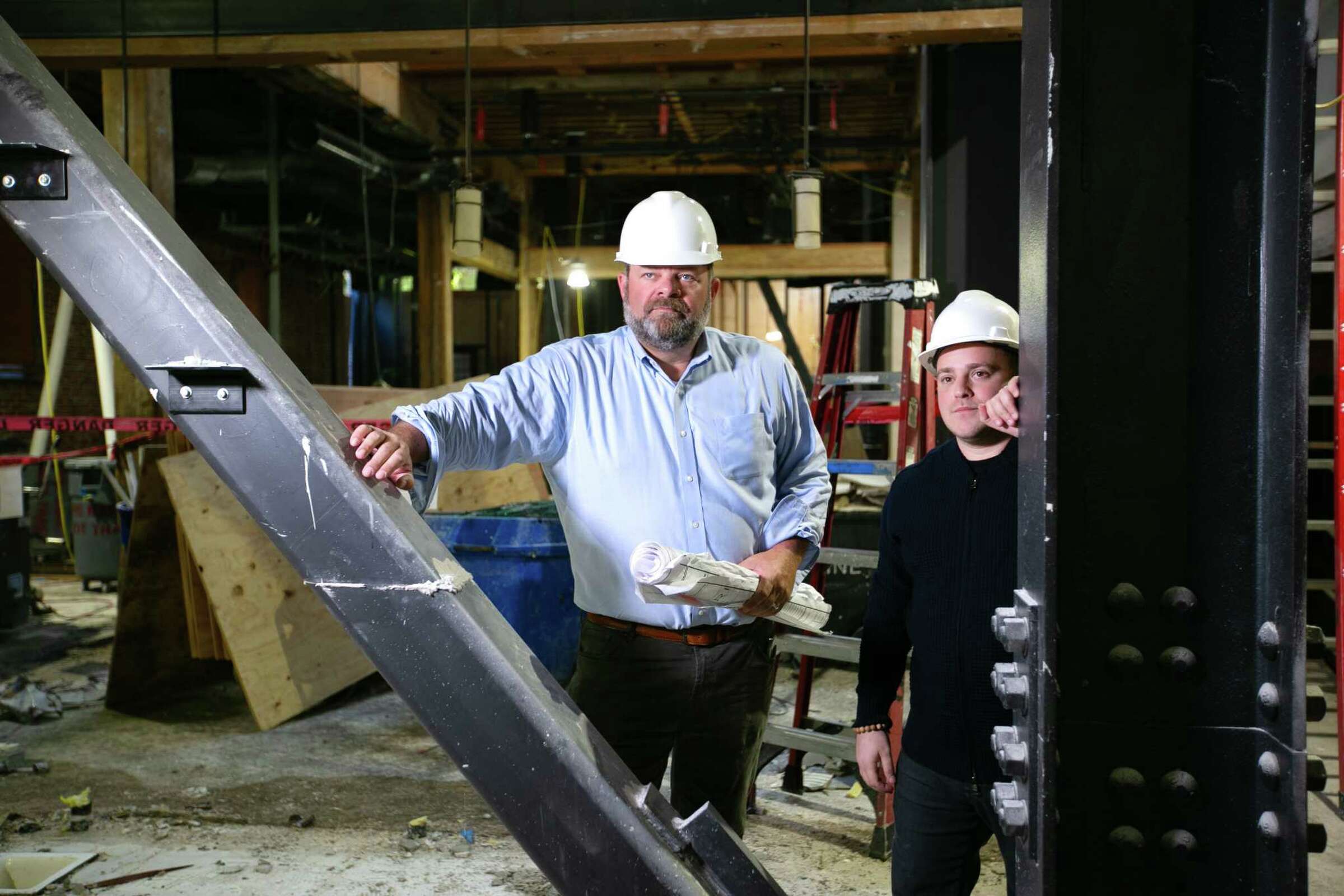 Brick & Timber Collective's Glenn Gilmore, left, and Jesse Feldman believe San Francisco's commercial real estate environment will rebound.
The plunge in office building values, from around $800 per square foot before the pandemic to around $200 per square foot in recent sales, is a potential opportunity for Brick & Timber Collective and others with faith in the city's future. In previous downturns such as the 2008 recession, landlords were able to buy low and make massive profits after selling during subsequent economic booms.
Though it's unclear if another boom will happen, a lower cost basis is expected to translate to more flexibility to offer lower rents.
"Office buildings will continue to sell at new, far lower prices, which will allow the owners to let these (buildings) fill with companies again, and then office rent growth will slowly increase over time. This is the most likely outcome for the Financial District," Glenn Gilmore, founder and president of Brick & Timber Collective, said in a statement.
Ted Egan, the city's chief economist, expects office rents to drop and spur more tenant demand, he previously told the Chronicle.
Feldman said the firm will never leave San Francisco and continues to believe in the city.
"We are here and will be for a long time.  We hope to be valuable in the next recovery and to the city at large as a quality operator," said Gilmore in a statement.